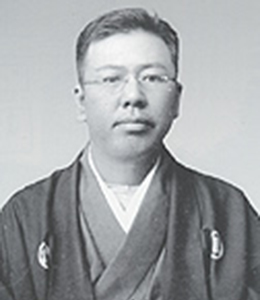 Brief history and description
Politician and writer. Born in Kita Kanbara-gun, Niigata Prefecture. Ichishima Shunjo was active as a journalist, a member of the House of Representatives and the first curator of the Waseda Library. He left behind many essays and records on his relationships with friends and political history, etc.
Relationship with Yaichi
A relative of Yaichi's who provided him with a wide range of assistance from his studies through to daily life, such as providing him with accommodation free of charge.
Comment by Yaichi
Shunjo-sensei's books are always full of interest, and the fields that he is involved in, such as seal engraving, working under the names of Ryotei and Ogisu, the Daiji (large characters) of Taizan Kongoukyo, and the Ogikouwa Yonnen Rishigoyuzozohi ink rubbing, know no bounds. (Quoted from Akigusado Shosoku.)
Comment by Shunjo
I allowed Aizu Yaichi to live in the Ochiai Villa unconditionally for thirteen or fourteen years… From that hovel, two doctors of literature were mysteriously born. The first of these relationships was Yoshida Togo, and now another has become a professor. All I can do now is smile wryly at seeing the harvest that lending them the property reaped. (Quoted from Ichishima Shunjo Shuki.)
Representative works
Sonsou Zatsuji, calligraphy by Senso Tetsu "Ochiai Shusoudo"
Yaichi resigned as the headmaster of the Waseda Junior High School in 1922, and his income was reduced drastically. Knowing this, Ichishima Shunjo lent him his villa in Shimoochiai free of charge. Yaichi composed 17 poems in Sonsou Zatsuji while living there.