School Discipline
Summer of 1914
Guidelines Created by Yaichi
The four principles of life that he created in the summer of 1914. Yaichi created these for the students studying for examinations that were lodging in his home, and they later became the principles for Yaichi's own life. The advice that he dedicated to his pupils.
Korewo Hitasukoto Uminogotoshi, Korewo Yashinaukoto Harunogotoshi

Composed at a school in Niigata City.
This calligraphy was quoted from a poem by historian Ban Gu selected from Tohingi (Autobiography, Part 1 of Volume 100 in the Book of Han) selected by a 1st-century Chinese historian Ban Gu. It is said to educate children into naturally becoming familiar with their studies and insight. Yaichi was asked to write something by schools, etc., and this is what he presented them with.
Shusoudo
Around 1947 to 1948

Yaichi's home, where his pupils gathered.
The name of Yaichi's home. Although he moved to different homes many times throughout his life, he used this place from his late twenties. The character "sou" in "Shusoudo" is a generic term for "grass," and he chose this name owing to his fondness for bush clover, chrysanthemums, Chinese spinach and other types of flowering grasses.
Yaichi's pupils used to gather at his home, and study workshops and discussions on art were frequently held at Shusoudo.


In front of his Mejiro Culture Village Shusoudo garden (around 1935)
Comment by Yaichi

There were actually several large old bush clover bulbs in the south-facing front of the garden (of his home in Shimo-Ochiai, Tokyo). These bush clovers grew well and attracted everybody's attention, so I crowned the character for grass (艸) with the character for autumn (秋) and created the name Shusoudo. (Quoted from Kotorikai.)
Yuukou Gakusha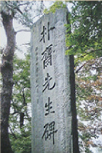 Bokusai Sensei Memorial Stone, Written by Aizu Yaichi
The first school Yaichi was appointed to after graduating from university.
1A private school established by Masumura Takuji (aka. Bokusai) in the village of Itakura (currently Joetsu City) in April 1896. This school is currently still operating under the name of Niigata Kenritsu Yuukou High School. Yaichi worked here as an English teacher from 1906 to August 1910 after he graduated from Waseda University.
Comment by Yaichi

The people of Masumura Takuji's (Bokusai, founder of Yuukou Gakusha) hometown venerated him so much that I erected a memorial stone to his memory after his recent death. (Quoted frim Bungakusha no Shugyo.)
Waseda Junior High School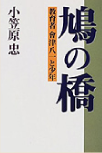 Hato no Hashi by Ogasawara Tadashi
In charge of English and ethics (morality), and known as a great teacher.
Was employed as an English teacher in September 1910 under the recommendation of Tsubouchi Shoyo. Was the headmaster from 1918, but resigned in 1925 owing to opposition to his teaching policies. Yaichi was placed in charge of English and ethics and was hugely popular with the students owing to his unconventional classes. There are many legends of his characteristic methods of teaching that exceeded the boundaries of regular classes, some of which are also mentioned in Ogasawara Tadashi's novel, Hato no Hashi.
Comment by Yaichi

Everybody, including the elderly and the young, must be more humble, more faithful, more insightful, more serious, more thorough, and aim at loftier heights in their individual lifestyles. They must also be more prosperous and more significant. (Quoted from Shumi no Shoyo.)
Waseda University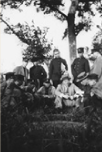 Together with Waseda students (1930)
Announced many dissertations on the history of art and taught his pupils
Appointed lecturer on the history of eastern art from 1926, and assumed the position of professor in 1931. He continued to work through to April 1945, and taught a large number of pupils during that time.
Comment by Yaichi

The most important thing is for me to do is implore students to observe the subject well and study the laws that govern it without separating themselves from it. No matter how well the theory is understood, if you do not include an understanding of the subject's true essence right down to its foundations, you are working with impractical theories and impractical science. This will prove to be insignificant. (Quoted from Jitsubutsu Soncho no Gakufu.)
Horyuji Hokiji Horonji Kenryu Nendai no Kenkyu (Research into the Age of Constructing the Horyuji Temple, the Hokiji Temple and the Horonji Temple)
May 28, 1933

Horyuji Hokiji Horonji Kenritsu Nendai no Kenkyu (Research into the Age of Constructing the Horyuji Temple, the Hokiji Temple and the Horonji Temple)
Doctoral dissertation on the controversy surrounding the reconstruction of the Horyuji Temple
A doctoral dissertation published in 1933. He was awarded the Doctor of Literature degree in the following year of 1934. Yaichi attempted to explain the controversy that surrounded whether or not to reconstruct the Horyuji Temple since the Meiji Period. He reached a conclusion on this, but the research he carried out into both documentation and actual structures greatly influenced his research into the history of art in later years
Comment by Yaichi

When determining the issues surrounding the Horyuji Temple, it is necessary to avoid being satisfied with a superficial conclusion based on an interest in the citizens' view of science and avoid concentrating on academic cliques and schools of thought, and instead search for the real truth and speak frankly without putting everything down to preconceived styles that were inherent at the time. (Quoted from Hoyuji Mondai ni Tsuite.)
[Aizu Collection] Waseda University Aizu Yaichi Memorial Museum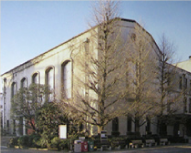 Waseda University Aizu Yaichi Memorial Museum
An art museum archiving the works that Yaichi collected under his own expense
A university museum housing the Aizu Collection. Yaichi used his own money to collect pieces of artwork for his own studies and as teaching material for his students. The Aizu Collection was placed on exhibit in the History of Eastern Art Laboratory established in the university in the fall of 1934. Air raids and student rioting, etc., caused the collection to be moved several times and led to the laboratory being closed, and now is it archived in the Waseda University Aizu Yaichi Memorial Museum.
Comment by Yaichi

There was one major element that I had prepared myself for. From then on, I worked and lived an economical and simple life, and there were times that I would put on old clothes that I wore throughout the year during both summer and winter over the course of forty-five years and damaged shoes and walk around in these. Thereby I was able to collect together as many reference materials as I could. (Quoted from Omokage.)
[Aizu Collection] Ming Figurine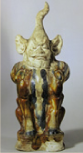 Hekijayou
A burial accessory made of clay and sporting records excavated from an ancient tomb in China. Yaichi collected 395 of these. Archived in the Waseda University Aizu Yaichi Memorial Museum.
[Aizu Collection] Eave-end Roof Tile


Kanheitenka
A circular tile used on roofs and the end of eaves. Yaichi collected 54 of these. Archived in the Waseda University Aizu Yaichi Memorial Museum.
[Aizu Collection] Mirror


Ujoumonkyo
A metal mirror made of bronze and nickel. Yaichi collected 208 of these. Archived in the Waseda University Aizu Yaichi Memorial Museum.
[Aizu Collection] Ink Rubbing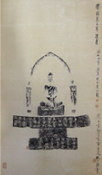 Ink Rubbing of the Zuikanou Sannen Zouzo
Ink rubbings of inscriptions and epitaphs engraved on metal or stone memorials. Yaichi collected 532 of these. Archived in the Waseda University Aizu Yaichi Memorial Museum.