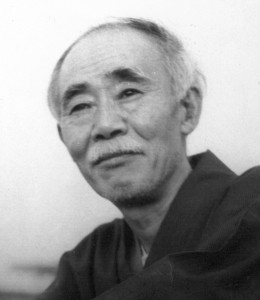 Brief history and description
Poet, tanka poet and critic. Born in Itoigawa City, Niigata Prefecture. Real name is Masaharu. He distinguished himself with his literary activities while he was still in university, and was active in his hometown from 1916 onwards. His representative works include his Kangenroku essays, research paper Daigu Ryokan, as well as many songs and school anthems.
Relationship with Yaichi
Attended university together. Maintained their friendship for forty years, and used to exchange works with each other. Continued their discussions and improved their friendship after the war at Gyofu's home in Itoigawa. Yaichi also wrote an obituary for Gyofu upon his death, which was published in a newspaper.
Comment by Yaichi
As I recognized right from the beginning, Soma was essentially a product of Echigo (former name of Niigata Prefecture). (Quoted from Soma Gyofu no Koto.)
Comment by Gyofu
Like me, Shusou Doujin was born and raised in Ryokan's homeland Echigo. Having been raised in the bleak and colorless environment of this northern province, he discovered a mysterious attraction in the decaying beauty of Nara with its green verdure. I personally don't believe that this is a contradiction. Conversely, I believe that it was this environment that gave birth to Nankin Shinsho. (Quoted from Sajo Manpitsu published in the April 1925 edition of Waseda Bungaku.)
Representative works

Kitemireba written on the surface of a Ryokan fan. A Ryokan fan given to Yaichi by Gyofu when he visited Itoigawa in July 1946.