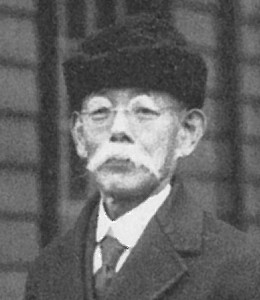 Brief history and description
Novelist, playwright, critic, educator. Born in Gifu Prefecture. Real name was Yuzo (勇蔵), which he later spelled with different kanji characters (雄蔵). Strived for enlightenment in contemporary literature as a critic, a playwright and translator, etc. His representative works include the theory of novels Shosetsu Shinzui, his translation of Shinshu Shakespeare Zenshu (New Complete Works of Shakespeare), the novel Tousei Shosei Katagi, and the play Yaku no Gyosha, etc.
Relationship with Yaichi
Shoyo became Yaichi's life-long mentor after Yaichi heard him give a lecture during his Niigata junior high school days. On the other hand, Yaichi taught Shoyo about haiku and tanka poetry. Yaichi kept the letters he received from Shoyo beside him all his life, 312 of which are archived in the memorial museum.
Comment by Yaichi
The only person I brazenly bowed my head to during my student days for the magnificence of his aura, the depth of his learning, his burning passion, the friendship he showed me, his indubitable moral fiber and a greatness that knew no bounds was Tsubouchi-sensei. (Quoted from Shuyo Jusankaiki.)
Comment by Shoyo
The owner of Shusoudo, Aizu Yaichi, used to be one of my pupils who I taught English literature and other subjects, but he is now my deepest friend and mentor. (Quoted from the foreword in Nankin Shinsho.)
Representative works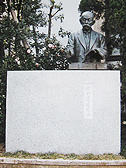 Mukashibito, engraved on the memorial stone located in the Waseda University Dr. Tsubouchi Memorial Theatre Museum.
Memorial stone engraved with Yaichi's poem erected in the Waseda University Dr. Tsubouchi Memorial Theatre Museum.