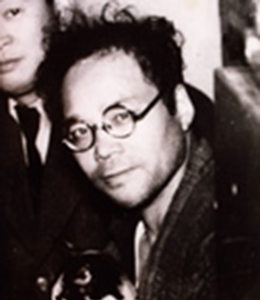 Brief History and Description
Woodblock print artist. Born in Aomori City. Was deeply influenced by the prime colors used in van Gogh's Sunflower and decided to become an artist. He used his woodprints to express the folktales and myths of Japan and the East. His representative works include Utou, Shaka Judai Deshi and Yamatoshi Uruwashi, etc.
Relationship with Yaichi
A friend from before the war. Shiko was very impressed with Yaichi's tanka poems and extensive level of learning.
Comment by Yaichi
Mukata is one of the well-known modern-day artists, and he has established himself through the characteristics of his art. Furthermore, these characteristics cannot be matched by anyone else. And, only Mukata is able to wield these powerful characteristics so effortlessly. His modesty is limitless. (Quoted from Munakata Shiko no Koto.)
Comment by Shiko
The resonance of your (Yaichi's) poems always reminds me of Buddhist sutras. (Quoted from a letter sent to Aizu Yaichi on October 15, 1945.)
Representative works
Monju Bosatsu and Fugen Bosatsu of the Judai Deshi series.
Yaichi discover two of his friend Mukata Shiko's Judai Deshi series of Buddhist saints in an old bookshop in Niigata City in July 1946 and wrote a poem about them.